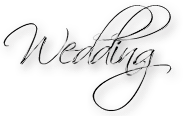 Once we had decided on a Renaissance wedding, we needed to locate a place to get the appropriate attire. At first we browsed internet sites and catalogues that specialized in Ren wear, but found it a little off from what we wanted.
Eventually we located a local seamstress named Judith Bennet of Threads in Time, a home-based business crafting and selling beautiful hand-stitched period clothing and costumes. She had an amazing selection of costumes for rent and sale, and she was willing to design costumes for our wedding custom-fitted to each wearer for a great price. We worked with her for the good part of a year going over photographs, designs and having many fittings. Eventually we decided on a particular style and period for all costumes worn by the bridal party.
All pictures, when clicked, open a pop-up to a larger version.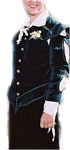 Curtis' Doublet:
The wedding doublet made of green velvet embroided along the cuffs, collar, epaulets and skirting. The sleeves are removable, and tied on with ribbons. Underneath he wore a laced wedding shirt made of cotton and hand-embroidered in gold thread.
His pants are black velvet, tied with a cord.
Bridal Gown:
The gown was an incredible find at the back of a bridal shop. It is Anjolique style 330. The veil was custom made from chiffon, as I loathe tulle with every fibre of my being.
Bridesmaids:
Wear a lightly-boned corset made of black velvet and tied with gold strings. Underneath is a light, Indian Cotton chemise, embroidered on the collar and sleeves and tied with a small green ribbon. The full-length skirts are made of a floral green velvet.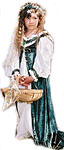 Flower Girl:
Marika wore a costume very similar to the bridesmaids, but made for a child so that it's easier to get on and off, and without a corset. It was a full-length cotton chemise, with the same design as the bridesmaids chemises, plus a green velvet irish dress that tied in the middle with the same gold thread that tied the bridesmaid's corsets.
Best Man:
Martin wore a shirt similar to a pirate's shirt, but fastened with two gold buttons instead of lace. Over it was a green velvet vest, a black sash and black drawstring pants.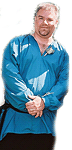 Groomsmen
A green royal tunic and sash, with black velvet drawstring pants.
The Master of Ceremonies (my father):
A 12th century fop was rented from Judith's costume closet. It was in several layers, and made of gold velvet, ivory satin and cotton.
My Mother:
Her costume was rented from Judith costume closet, and is a fantasy costume based on the "Queen of Hearts" character from Alice in Wonderland.
Curtis' Mother and Grandmother:
Hand-crafted their own costumes from Renaissance gown patterns they purchased.
Only a few guests decided to come in costume, so their photos and information are excluded.
TABLEWARE :
The matching serving set and cake topper were purchased from [The Renaissance Store] as the "Fairy Heart Wedding Set".