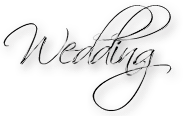 A traditional wedding never suited our tastes: neither of us had any attachment to a church, nor the idea of appearing in stuffy tuxedo and white ball gown to perform a most sacred and intimate act in front of hundreds of people. I am a Pagan, and my husband is agnostic - so the idea of performing in a Christian church and reciting Christian vows seemed somehow blasphemous.
Months of soul-searching led us to a Renaissance wedding and spiritual handfasting. We customized our own vows to match our beliefs and what values we felt were most important to a bonding. We designed the costumes we would wear with help of an SCA Seamstress, and had only 47 of our closest friends and family attending (and that includes ourselves and bridal party). We were married on July 27th 2002, in the picturesque gardens of Everlasting Summer.
What resulted was the most wonderful, beautiful, and comfortable wedding we could ever ask for.
Many people have inquired about our photos, ceremony and costumes so I have greatly expanded this section of the website.
[ Wedding Album ]
Pictures by prize-winning photographer Tara Gill of [Fisheye Photo] as they appeared in our wedding album, minus a few repeat poses. Most of the photos are in black and white or sepia to keep with the feel of our ceremony.
( On the original page, only 38 photos were displayed. In this page there are 99.)
[ Other Photos ]
Favourite photos taken by guests.
[ Costumes ]
Photos and information about the period costumes that were worn by the bridal party and guests.
[ Invites & Vows ]
Images of the invitations that were hand-crafted by my maid of honor and I, a transcript of the spiritual handfasting and blessings that bound us, and information about handfasting cords and their meaning.