The Love-Squared Blanket
A hand-crafted quilt and throw made from the hands of many friends. It was sent several months after his death to cradle our family with the love, prayers and warm thoughts that were a focus while it was being made. It was also one of the first blankets to swaddle Xan when he was born 11 months later.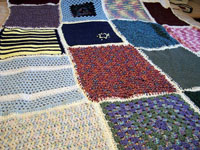 Another loving group of women named a star over Ursa Major in Jericho's honour and sent us the certificate, along with a memorial necklace that I will treasure always.
The charm necklace is called "Footprints on a mother's heart" and is a silver charm with a birthstone bead attached. You can find that and others by clicking here.
A wonderful woman, the mother of a reader of my journal, read about Jericho's birth and death and knit me a blue prayer shawl in a soft blue wool. She also wrote me a heartfelt letter about her own experience losing a baby over twenty years ago.
Mothers need other mothers during this time, and I am eternally grateful for every woman who has reached out to share their own experiences with me. It is never selfish - while I am so saddened to see so many others in this position, it helps to hear their stories and know I'm not alone.